Super Tilt Bro. for NES
Super Tilt Bro is a demake of the Super Smash Bros. series compatible with the good old Nintendo Entertainment System from the 1980s.

You and a friend take control of a clone of Sinbad, the badass mascot of Ogre3D. Two fellows, one platform: you will have to fight to throw the other out.
Online play: join the Discord to find someone to play with you!
You can follow the development on my Twitter @RogerBidon, on Smashboards or directly fork it on github.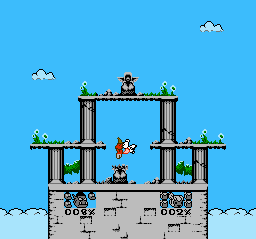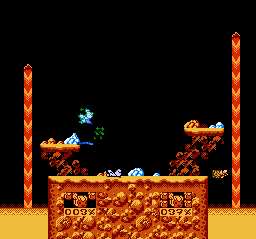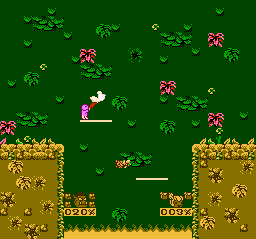 Hello!
If you are searching for a cartridge, it is too early.
Game carts exist, but are early prototypes.
You can follow to be notified of news, or join the community on
our discord
.
Thank you for your interest <3
Controls

          Jump
            |
Move left   |      Unused   Unused
     |   +--+         |        |
+----|---|------------|--------|------------------------+
|    |   |            |        |                        |
|    | +-|-+          |        |                        |
|    | | o |          |        |                        |
|  +-|-+   +---+      |        |                        |
|  | o       o |      o        o        ---     ---     |
|  +---+   +-|-+   (select) (start)    ( B )   ( A )    |
|      | o | |                          -o-     -o-     |
|      +-|-+ |                           |       |      |
+--------|---|---------------------------|-------|------+
         |   +---+                       |       +---+
       Shield    |                 Special moves     |
                 |                                   |
            Move right                            Attacks
    
You can use different moves by holding a direction when pressing the attack or special move button.
Version 2.alpha-3 released!
Changelog:
Mostly a technical update. It features an improvment for Kiki's platforms, and new musics.
Kiki

Kiki's platforms now disappear after a short time
Kiki is no more able to draw new platforms until she touches the ground again

Music

New title screen music by Tuï
Ingame, and gameover musics are improved

Offline ROM compatibility

The .nes downloadable from this page is supported by more emulators than before (UNROM mapper)
Successfully tested on Gameboy Advance, and Nintendo DS
Previous release:
2.alpha-2
Hotfix on 14/08/2020: Skyride stage is now available for netplay.
Hotfix on 07/30/2020: Fix "bad ping" errors when connecting to online with the web client.
This is the first ALPHA with online gameplay. Real time online gameplay is kind of tricky, please send your feedback! Also, you may join the Discord server to find players.
Online

This is the first ALPHA with online gameplay
It leverages special NES cartridges with an integrated WiFi chipset
For now it is only compatible with emulators on this page
There is a discord server to help you find an opponent: https://discord.gg/qkxHkfx
Some devlog entries will be written on the subject, stay tuned

Gameplay

Fall speed has been reduced, easing aerial gameplay
Characters are no more helpless when slipping from the edge (avoiding insta-death at 0% on bad luck)

Famicom expansion port

The game is now compatible with controllers plugged on the Famicom expansion port
| | |
| --- | --- |
| Updated | 12 days ago |
| Status | In development |
| Platforms | Windows, Linux, HTML5 |
| Rating | |
| Author | sgadrat |
| Genre | Fighting |
| Tags | 2D, 8-Bit, Local multiplayer, Multiplayer, NES, Pixel Art, PvP, Retro, sourcecode, Versus |
| Average session | A few minutes |
| Languages | English |
| Inputs | Keyboard, Xbox controller, Gamepad (any) |
| Multiplayer | Local multiplayer, Server-based networked multiplayer |
| Player count | 1 - 2 |
| Links | Twitter, Source code |
Download
Click download now to get access to the following files:
Super_Tilt_Bro_(E).nes
512 kB
super-tilt-bro-linux64.tar.gz
4 MB
super-tilt-bro-windows.zip
8 MB