Super Tilt Bro. for NES
Super Tilt Bro is a demake of the Super Smash Bros. series compatible with the good old Nintendo Entertainment System from the 1980s.

You and a friend take control of a clone of Sinbad, the badass mascot of Ogre3D. Two fellows, one platform: you will have to fight to throw the other out.
You can follow the development on my Twitter @RogerBidon, on Smashboards or directly fork it on github.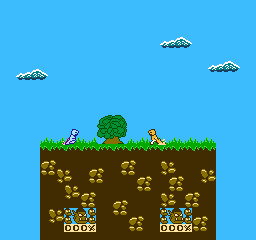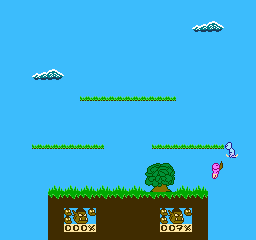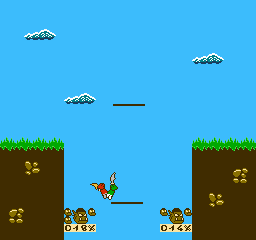 Controls

          Jump
            |
Move left   |      Unused   Unused
     |   +--+         |        |
+----|---|------------|--------|------------------------+
|    |   |            |        |                        |
|    | +-|-+          |        |                        |
|    | | o |          |        |                        |
|  +-|-+   +---+      |        |                        |
|  | o       o |      o        o        ---     ---     |
|  +---+   +-|-+   (select) (start)    ( B )   ( A )    |
|      | o | |                          -o-     -o-     |
|      +-|-+ |                           |       |      |
+--------|---|---------------------------|-------|------+
         |   +---+                       |       +---+
       Shield    |                 Special moves     |
                 |                                   |
            Move right                            Attacks
    
You can use different moves by holding a direction when pressing the attack or special move button.
Version 1.1 released!
Changelog:
Minor release before producing cartridges

Menus now fit in NTSC screens
There is no more visual glitch in transition between menus
Previous release:
1.0:
Sinbad moves

Jab

New animation
More end-lag, but can be cut into a new jab

Side special

Improved animation for charging

Shield

Improved graphics
Shield lag now occurs when leaving the shield

Aerial down

Accelerated animation
Cancels fast-fall

Gameplay

Implemented air friction: while mid-air you slowly decelerate
Kill move are now stronger, compensating air friction
Tech is now easier to input

Bug fixes

It is no more possible to regenerate your shield by pressing select
No more artifacts between menus (only visible on some hardware)
No more visual glitch at the end of stage selection

Thanks

Bjorn Nah for dedicated play-testing
BacteriaMage for proofreading
| | |
| --- | --- |
| Status | Released |
| Platforms | Linux, HTML5 |
| Rating | |
| Author | sgadrat |
| Genre | Fighting |
| Tags | 2D, 8-Bit, Local multiplayer, Multiplayer, NES, Pixel Art, PvP, Retro, sourcecode, Versus |
| Average session | A few minutes |
| Languages | English |
| Inputs | Keyboard, Xbox controller, Gamepad (any) |
| Multiplayer | Local multiplayer |
| Player count | 1 - 2 |
| Links | Twitter, Source code |
Download
Click download now to get access to the following files:
Super_Tilt_Bro_(E).nes
40 kB
super-tilt-bro-linux64.tar.gz
1 MB
Physical copies
Support this game at or above a special price point to receive something exclusive.
Physical copy of Super Tilt Bro.
An actual cartridge that you can put on your NES and play!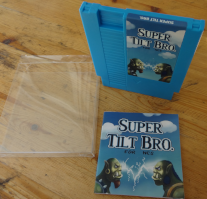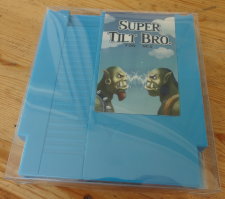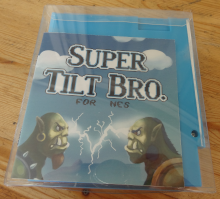 Contains a cartridge with the game and a manual, wrapped in a transparent dust-sleeve.
Minimal price includes production costs, shipping fees, a 10% donation to itch.io and around $10 for the developer.
Comments
Log in with itch.io to leave a comment.
So... you made a floppy disk just for your game?
Awesome game but could you please add a few screenshots to the page?
Thanks. Just added some screenshots.
Interestingly itch io shows games screenshots for html5 games only on mobile. So, I integrated new screenshots in the game's description, hoping the page is improved.
Awesome game, I love the animations and the music. It really gave me a sense of improvement. Is there any game play difference between the different weapons and characters?
Thank you for the kind words! There is no game play difference, you can freely pick your favorite color and name
This is a really good game, can you give me some tips? i want to makes games, just like this one!
Do it for the fun of doing it.
Begin with the part that you enjoy the most, be it graphics, programming or music. Choose some tools you want to learn, it is more rewarding than using tools you already know. Work on your project bit by bit, your first iteration will be weird prototypes. After some time the prototype will become somewhat playable, then pretty decent to finally be a full featured game. Just never forget that the goal is not the finished game, it is to enjoy making it.
I wish you all the best in your gamedev journey
Oh? What did you try? The ROM, the linux version or the web version?
On which browser if you tried the web version? It requires a pretty modern desktop web browser :s
tip: the standard keyboard-layout for player 1 isn't suited for two-player, it's better if you 'split the keyboard in two'. that way the players won't get in each other's way.
Hey, thank you!
I fixed the default keyboard layout. Now both controllers have their keys bound by default, which is handy in this two-player game :)
You may have to click "Reset to Defaults" if you already played the game and let the default suboptimal binding.